Paintings with a Heartbeat
"MUSCONETCONG BLUES" accepted in OIL PAINTERS OF AMERICA'S 2013 Juried Salon Show of Traditional Oils. Click on Events for further information.
Just Published! Nature, The Best Teacher
ABSORB NATURE AND BREATHE LIFE INTO YOUR PAINTINGS!
"Nature, The Best Teacher" was conceived with a primary focus: To encourage the aspiring artist to return to the fundamental principles and to use Nature as the Teacher.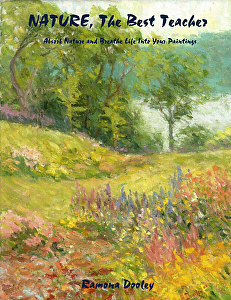 All images and written material on this website are protected by the
U.S. COPYRIGHT OFFICE and cannot be downloaded or reproduced
in any manner without the written consent of artist.
Ramona Dooley is the Owner of the trademark,
Paintings With A Heartbeat™ (2012), registered with
the U.S. PATENT & TRADEMARK OFFICE.